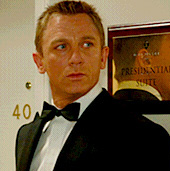 Daniel Craig as 007
The overwhelmingly positive and excited reaction to Daniel Craig as the new James Bond in Casino Royale has me shaking my head. Most critics and fans alike seem to be embracing his more realistic, gritty approach, which has made Bond a more flawed mortal who makes mistakes. They even claim he's the best Bond since Connery and more like Ian Fleming's creation. I'm still shaking my head....click here for the full review.
Sean Connery's return to Bondage in 1971's Diamonds Are Forever was heralded as the second coming. That he was grayer and heavier mattered not one bit to critics and fans alike, who breathed a collective sigh of relief that James Bond was alive and well after all. An uneven screenplay, suspect casting, and plodding direction also failed to hinder 007's legendary box-office appeal. Bond was back; or, more succinctly, Connery was back.
The soundtrack, in its remastered 2003 re-release with a plethora of previously unreleased music, is, quite simply, a masterpiece. The one person who seems most inspired by Connery's return is composer John Barry, whose themes and orchestrations are, well, music to my ears! From Shirley Bassey's rousing, classic title song, to full-blown themes such as "Bond Smells a Rat," "Circus, Circus," "007 and Counting," and new inclusions, such as "Gunbarrel and Manhunt," "Airport Source/On the Road" and "Slumber, Inc.," this soundtrack almost single-handedly makes the film better than it really is.
The producers of this remastered version have done their utmost to present the music in all its glory, and I'm not exaggerating when I say Diamonds Are Forever is one of John Barry's best scores ever.
What can I say about
Die Another Day
that I haven't said about the last 3 Pierce Brosnan Bonds? It's loud, the double entendres are enough to make Austin Powers blush, lots of buildings and machines blow up, and Brosnan is still merely a mannequin on which Bond's tuxedo is nostalgically displayed. Yet, Brosnan's 4
th
outing as 007 is arguably his best...
click here for the full review.
When it was announced Madonna would be writing and performing the title song for Die Another Day I had mixed feelings. I welcomed her talent because it virtually guaranteed a James Bond top-ten hit for the first time since Duran Duran's A View to a Kill 17 years earlier. But, it also ensured that the theme would not be utilized within the film, a trend that began with Licence to Kill and, for the most part, continues up to and including Die Another Day.
OK, we all know by now that Madonna's theme is no classic, but you know, after repeated listenings on the radio, one realizes it's quite catchy and stands up on its own. At least it isn't another WHA-WHA Goldfinger-wannabe. The underlying theme is quite Bondish, and could have provided a nice theme throughout the film.
This is composer David Arnold's third successive Bond soundtrack and proves to be his weakest effort. At times it sounds a lot like recycled cues from his last one, The World is Not Enough. Each track is as forgettable as the last: there's lots of beat and percussion, but no prevalent theme weaved in to hold things together.
The very last song, called "Going Down Together," has so much potential to be that theme, and reminds us of the John Barry sound that Arnold was purported to have emulated. But it lasts a minute-and-a-half! The track "Whiteout" starts with an homage to OHMSS, but inexplicably changes direction altogether. And beware of "Antonov": it carries on for 11:50! Barry always had themes running through the films, whereas Arnold has - I don't know the technical term - "reactions"; that is, if the scene is quiet, the music slows down, and when the action picks up, the banging starts!
What did I like? Arnold's new gun-barrel opening that begins track 3 is cool, and "Welcome to Cuba" is very authentic. Oakenfold's "James Bond Theme" is fine, but isn't in the film. Apparently this CD represents only a fraction of the actual film music. I sincerely hope (but doubt) that the rest of the soundtrack is more melodic.
"Tomorrow Never Dies" album 2
Tomorrow Never Dies
After Eric Serra's inappropriate Goldeneye score, most Bond fans, myself included, were suitably impressed with David Arnold's modern and energetic score for Tomorrow Never Dies.
Its success is derived from remaining true to the sound created by the incomparable John Barry, yet with a distinctly contemporary flair. Arnold said he created a score with "one foot in the '60s and one in the '90s," combining a traditional orchestra with a "battery of today's high-tech musical gadgetry."
I must admit I really liked Sheryl Crow's title song, for the very reason it was not another brassy, Goldfinger-type that Goldeneye tried to be. I thought the song was different, stylish and could play on the radio, which Bond themes have been absent from (in North America) since Duran Duran's A View to a Kill.
Crow's song, however, has not improved with time, never played on the radio, and has, in my estimation, proved itself to be one of the weakest title songs in the series. David Arnold's version, called Surrender, and performed perfectly by kd lang, has proved just the opposite. That song is big and brassy in the '60s Barry tradition, and is utilized with good effect within the film itself.
The background themes for Tomorrow Never Dies are excellent, very creative and moody. (There are actually two soundtracks for the film, the second containing cues that were left off the first.) For some strange reason Arnold missed the boat with The World is Not Enough (except for the love theme), mainly because the background music sounds over-produced, and he doesn't use the excellent title song within the movie. Hopefully he'll rectify these deficiencies with the extra time he's had to prepare for Die Another Day, and firmly establish himself as the new sound of James Bond.
Bond Back In Action I & II
There are many CDs of James Bond music available, but none as essential as the two Bond Back in Action compilations. The first is a very faithful re-working of John Barry's most popular cues mixed with many previously unreleased music from the Sean Connery era. The second follows the same path covering The Man with the Golden Gun to Goldeneye. Both are performed by the City of Prague Philharmonic, conducted by Nic Raine.
With only a few subtle variances here and there, Nic Raine has remained loyal to the original recordings, in many cases reconstructing music for which the original manuscripts have long-since been lost.
The first album boasts new tracks like "Death of the Tarantula"(DR. NO); "The Zagreb Express" (FRWL); "Bond's Funeral" (YOLT); "Gumbold's Safe Break" (OHMSS); and "Killing Wint and Kidd" (DAF); all of which I can hear in my mind as I list them!
The second album doesn't present nearly as many unreleased tracks, but there are enough exceptional pieces to keep fans entertained.
Soundtracks in general rarely offer much in the way of background music that's easy to listen to. Bond soundtracks, and John Barry in particular, are different. It's easy to put most Bond CDs on and get lost in 007 heaven.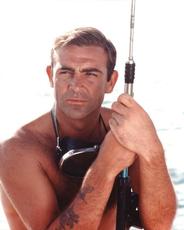 Thunderball
Thunderball was originally intended to be the very first James Bond film back in 1961, but legal action by Kevin McClory against Ian Fleming complicated matters, and Dr. No was made instead.
Producers Albert R. Broccoli and Harry Saltzman were able to negotiate a deal with McClory who was threatening to make Thunderball in the mid-60s, supposedly with Richard Burton as Bond. The last thing EON wanted was for someone else treading over their gold-mine. (Of course, scarcely 2 years later that's exactly what happened with Casino Royale!)
James Bond 007 enjoyed no greater heights of popularity than he did in 1965, and the film posters for Thunderball claimed, "Here comes the Biggest Bond of all!" And that it was. It had more of everything, and proved to be the most successful Bond film of all time at the box-office - to this day, if you adjust for inflation.
With Terence Young returning to direct his 3rd Bond, Thunderball achieves a terrific, stylish pace, inspite of the fact that much of the action occurs underwater. Ken Adam's creative sets, Ted Moore's lush photography, and John Barry's brassy score complement the largest doomsday plot so far, and the sophisticated jet-set characters only found in Bond films.
Sean Connery is fit and tanned, with a gleam in his eye, and a charisma that has remained unmatched by any actor - Bond or otherwise - since.
The following scene exemplifies what made the Bonds stand out from other films of the time. After trapsing around the villain Largo's (Adolfo Celi) Nassau estate, finding fellow agent Paula dead and nearly becoming a shark's midnight snack, Bond returns to his hotel to find a beautiful woman (Luciana Paluzzi), who he knows is a SPECTRE agent, in his bathtub. Do you think Bond is suffering the psychological effects of his recent experiences? Not bloody likely in 1965! "Hello," he purrs with a wicked grin. Acting surprised, she asks him for something to put on. He obliges by handing her a...pair of slippers! Without taking his eyes from her, he sits down comfortably and waits for her to alight from the tub. That's the Bond I know and love - and miss!
Thunderball was never one of my favourite Bond movies, but watching it re-mastered on DVD for the first time I was struck by just how well-made and well-written it was. The dialogue is superb, and the characters well-drawn, unlike recent efforts, which have sacrificed quality for quantity. If EON needs any inspiration at all they need look no further than their own Bond film library!
Do yourself a favour: Look Up! Look Down! Look Out! In fact, look wherever you have to to get Thunderball on DVD and re-visit one of the finest James Bond films ever made.

Licence to Thrill: A Cultural
History of the James Bond Films
There have been many books written over the years detailing the Bond formula of villains, women, gadgets, and plots of each film. The book-covers and photos may vary, but each book says the same thing without really saying anything at all.
Film historian James Chapman's Licence To Thrill: A Cultural History of the James Bond Films is the quintessential study of the Bond films. It's not big and glossy like the other "fan" celebrations; it concentrates on well-written, accurate and revealing text. Chapman is a fan, but he doesn't write like one; rather, he takes a fresh, objective tact in covering each film and analyzing the cultural significance of the series.
Chapman is determined to "subject the James Bond films to the same sort of critical scrutiny that has recently been applied to other areas of popular cinema." He feels so-called serious film historians have been too embarassed to acknowledge the importance of the James Bond films in cultural history. He says that, aside from the large fan culture, the James Bond series has been ignored, and he sets out to give them their due respect.
Licence To Thrill is the best study of the cinematic 007 since John Brosnan's James Bond in the Cinema came out in the early '70s. If you own only one book about the world of James Bond, then I highly recommend Licence To Thrill.

Casino Royale
Written by Ian Fleming in 1953, Casino Royale is the adventure that introduced James Bond 007 to the world. It's a taut thriller, smaller in scale than later novels, and has nothing in common with the films. Yet, almost 50 years later, it is still very exciting and completely satisfying.
Le Chiffre is a top Soviet agent who heads a large Communist trade union in France. He uses union funds to bankroll a new chain of brothels (the cad!), before a new law in France forbidding such establishments puts him in deep financial trouble. He turns to the gaming tables at Casino Royale to deal with his deficit.
James Bond is sent by M of the Secret Service to the South of France to defeat and humiliate Le Chiffre at the baccarat table, thereby undermining his effectiveness as a Soviet agent.
The story revolves around two main set pieces. The first is the baccarat game, a brilliant confrontation between hero and villain. To describe a card game in such detail while keeping the reader totally engrossed is a testament to Fleming's monumental skills.
The second is the infamous torture scene, an element that would appear in later Bond novels, but never as emotional or memorable. Not to give too much away, Bond is strapped naked to a seatless chair while Le Chiffre sits opposite him with a carpet beater. I cringed reading this chapter, Fleming's narrative was so thrilling. What he accomplishes with nuance and suggestion is much more effective than the graphic detail and expletives authors today must resort to to make their point.
Finally there is the Bond woman (not "girl", as she's over 18), Vesper Lynd. A complete opposite of the stereotypical 1950s woman, Vesper is an agent sent to help Bond. Initially Bond resents a "woman doing a man's job," but her incredible beauty quickly overpowers our James (did we expect anything less?).
Fleming also introduces Bond's allies, French agent Rene Mathis, and CIA agent Felix Leiter. They are created not only to support 007, but one suspects this was Fleming's way of showing the British had not yet given up the lead.
M and Moneypenny are here, and M tells Bond to see Q for any equipment he may need. Undoubtedly Fleming knew from the start that Casino Royale was not a one-off, but the beginning of a character he wanted to see endure. Little did he realize the potential of James Bond's staying power.
If you've never read Ian Fleming, do yourself a favour and start at the beginning with Casino Royale. If you have read him, pick it up again and fall back into the world of James Bond as only Fleming could create.
On Her Majesty's Secret Service
Directed by former editor Peter Hunt in 1969, On Her Majesty's Secret Service stars Australian George Lazenby in his only appearance as 007 in, arguably, the best James Bond film of all time.
This is the longest Bond film at 2hrs, 20 min, and it is a true epic in every respect. Hunt's crisp direction, with John Glen's Hunt-inspired editing style, move the picture at breakneck speed, enhanced by excellent production values and John Barry's absolute best music score.
'M' relieves Bond of his assignment to track down SPECTRE chief Ernst Stavro Blofeld (Telly Savalas). But 007 pursues Blofeld on his own, and learns he's holed up in a mountaintop fortress in Switzerland. This magnificent backdrop sets the scene for the most incredible ski and bobsled action ever filmed. While attempting to thwart Blofeld's diabolical scheme to sterilize plants and animals, Bond falls in love with, and marries, Countess Teresa di Vicenzo (Diana Rigg). If you're not aware of the eventual outcome...where in heaven's name have you been?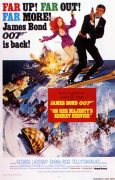 The picture and sound for the Bond films on DVD have been re-mastered so that they can be enjoyed to their fullest potential. (Of course you must have the right home-theatre components to maximize the DVD.) As with all the other DVDs, OHMSS offers lots of extras, including a number of trailers, director commentary, an excellent new documentary detailing the making of the film, and some interesting radio interviews with Lazenby, Rigg, and Savalas. In fact, until now, I'd never come across an interview with Rigg or Savalas regarding OHMSS.
As OHMSS is my personal favourite, I've been able to amass a lot of information about the movie over the years. Yet I still learned a lot I never knew before from this DVD, rendering it an indispensable source of Bond information and trivia.